CORE Blueprint
The CORE Blueprint is a reference guide of evidence-based and expert-recommended practices in campus sexual violence prevention and response. Compiled by experts from our multidisciplinary Advisory Board, the CORE Blueprint is organized around six key areas – the six pillars – that are essential to an effective institutional strategy for ending sexual violence. All Culture of Respect programs and tools are grounded in this six-pillar framework.


The CORE Evaluation is a comprehensive self-assessment survey that allows institutions of higher education to inventory their efforts to prevent and respond to sexual violence. The questions are organized around the six pillars of the CORE Blueprint, prompting institutional leaders to look at policies, programs, and procedures in each area.
Culture of Respect recommends institutions administer the CORE Evaluation with a multidisciplinary group of students, faculty, and staff to encourage collaboration, coordination, and communication across departments.
This process identifies strengths and opportunities in an institution's strategy for addressing violence. Ready to get started? Read this how-to guide and contact us if your institution is ready to take the CORE Evaluation online and receive a detailed report from Culture of Respect staff.
Culture of Respect has been the needle with which we are weaving together the various community threads of relationships, projects, knowledge, and more to support sustained enhancement of sexual misconduct prevention efforts across campus
CORE Constructs Toolkit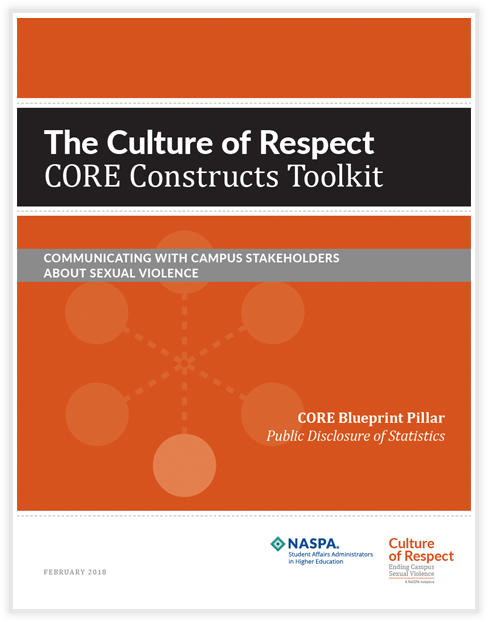 The CORE Constructs Toolkit is a suite of six guides that provide in-depth guidance on how to prevent and respond to campus sexual violence. They include resources, tools, and templates that can be adapted to meet specific institutional needs, and shared with staff and stakeholders across your campus.  The CORE Constructs Toolkit is available for purchase from NASPA. It is also an included benefit for all Collective institutions.
The toolkit includes the following six guides:
How to Be an Effective Campus Advocate
Planning and Strategy for Campus Prevention Education
Creating an Activist Peer Education Program
Training, Compliance, and Engagement for Campus Employees
Assessing and Improving Campus Sexual Violence Policies
Communicating with Campus Stakeholders About Sexual Violence