Culture of Respect Collective
The Collective is a campus mobilization program that guides institutional stakeholders through a step-by-step strategic assessment and planning process to improve campus sexual violence prevention and response. The program is based off the success of our pilot program, grounded in a comprehensive self-assessment, and includes collaboration with peers across the nation, technical assistance from Culture of Respect staff, and ongoing professional development. The 2017 cohort includes more than 50 institutions of higher education.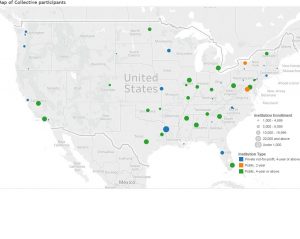 Participating in the Collective also means you have the opportunity to contribute to Culture of Respect publications. Our latest report - Institutional Responses to Sexual Violence: What Data from a Culture of Respect Program Tell Us About the State of the Field - chronicles the myriad ways in which Collective institutions are meeting federal guidelines and implementing practices recommended by Culture of Respect and other experts in the field.
Is your institution interested in joining the Collective? Successful participation in the Collective requires a significant investment of personnel, time, and energy; institutional buy-in; and a commitment to building a Culture of Respect on your campus. Check out our Campus Readiness Assessment to see if the program is right for your institution.
BACK TO TOP