We are thrilled to announce the participating institutions in Cohort 4 of the Culture of Respect Collective, an ambitious two-year program that brings together institutions of higher education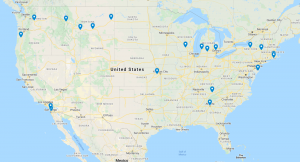 dedicated to ending campus sexual violence and guides them through a rigorous process of self-assessment and targeted organizational change. This fourth cohort of 20 diverse institutions from across North America will build on what's working, embrace what's new, and navigate the changing tides of what's next as they apply our system-based approach to ending campus sexual violence.
What's working?
Cohort 4 will rely on

Culture of Respect's signature tools

– the

CORE Blueprint

and the CORE Evaluation self-assessment survey – as a framework to inventory their efforts to prevent and respond to sexual violence, and to guide the creation of unique institutional plans for systemic change that go

above and beyond standard compliance

.

Their work will be led by

multidisciplinary groups of campus stakeholders

, because Culture of Respect believes we all have a role to play in ending sexual violence at institutions of higher education. When asked what they were most proud of in their Collective work, an institution who recently completed their participation in Cohort 1 cited the "creative ideas [that came] forward from the cross campus collaborative nature of our team." 

The participants will build their knowledge and skills through monthly

professional development and networking opportunities

, as well

in-person networking

at NASPA conferences.

We are again pleased to welcome several institutions who received

state support

to join the Collective, including those in Michigan, Montana, and Rhode Island, and look forward to replicating this model in future cohorts.

Our program has data that confirms when institutions adhere to the program model,

they can make significant changes

across the six pillars of the CORE Blueprint and

better align their institutional policies and practices with federal laws and evidence-based and expert-recommended practices

.
What's new?
Updated self-assessment instrument:

Cohort 4 will administer the newly updated

5th edition of the CORE Evaluation

self-assessment survey. Some of the expanded themes in this this updated edition include:

Services provided to responding parties in cases involving sexual misconduct;

Training provided to staff educating students and supporting them through cases involving reports of sexual violence; and

Threat Assessment (TAT) and Behavioral Intervention Teams (BIT) and their role in discussing threats involving sexual violence.

Enhanced programmatic benefits.

In addition to the signature personal support and technical assistance from Culture of Respect staff, the fourth cohort will benefit from expanded access to NASPA's robust professional development opportunities:
What's next?
Cohort 4 began their work as part of the Collective at a confusing and disrupted moment in the world. Having joined in January 2020, the novel coronavirus (COVID-19) began to impact colleges and universities in late February and early March 2020, resulting in many campus closures and new models of remote prevention work. Additionally, as institutions of higher education continue to await the final Title IX rule from the Department of Education, we know more changes are yet to come and likely in the midst of institutions responding to the pandemic. As NASPA and Culture of Respect staff work with institutions to determine the needs of Cohort 4 institutions as they navigate this challenging time, we applaud the Cohort 4 institutions for committing to this rigorous process of strengthening sexual violence prevention and response at their institutions, and to the health and well-being of their students. While much remains uncertain at this time, it is the Collective institutions and their commitment to ending campus sexual violence that remain steady.